PVC PU Conveyor Belts Manufacturers
India located manufacturers of PVC conveyor belts, food grade quality conveyor belt, PU belting, cleated belt, chevron conveyor belt, baking stuff food conveyor white pu belt, oil resistant pvc plain belt, pvc rough grip belt, ribbed belt made of pvc exporters to food transfer conveyor machine maker by HIC Universal having dealers distributors in China, Asia, USA, UK, Australia, New Zealand, Canada, Africa, Europe, Latin America, Scandinavia, pvc belt suppliers as per quality standards conforming FDA, BS 2890, DIN 22102, AS 1332.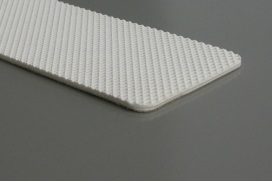 White Top Diamond Bottom Food-Grade
2 Ply Food Quality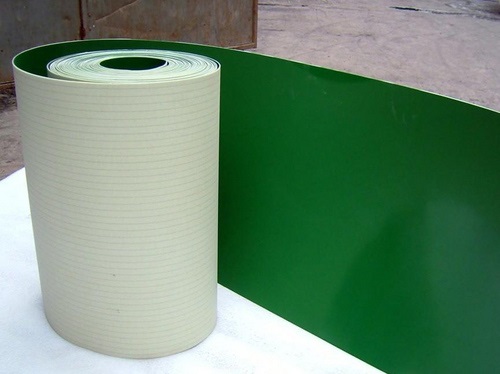 Green
Rough Top Grip Green
Cleated
PU
Transfer Food-stuffs Toxic-Free

using HIC Universal
PVC Conveyor Belts
Food products transfer like vegetables, mineral oils, meat, other food-stuffs conveying gets safe to eat using pvc conveyor belts made in India by HIC Universal.
HIC Universal PVC conveyor belt and PU belt are Original Choice by food machinery conveyor belt system manufacturers in India, China, USA, UK, Germany, Finland, Sweden, New Zealand, Mauritius, Algeria Africa, Fiji, Japan, Singapore, Indonesia, UAE, and other Asian countries.
PVC belts, PU belts are classified as Flexible PVC Articles under HS Code 3926.
Technical Data Sheet of conveyor belt available online.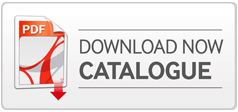 India PVC Conveyor Belts suppliers HIC
Andaman Nicobar India Odor-free white food grade pvc conveyor-belts bakery units customers
Andhra Pradesh India Stain-free pu conveyor-belting confectionery industries suppliers
Arunachal Pradesh India pvc green conveyor-belts poultry foods industries clients
Assam India Non-toxic Pvc conveyor-belting FDA tea estates noodles food industries customers
Bengal India Odourless pvc food FDA quality white conveyor-belts seafood fishery industries clients
Bihar India Tasteless pvc conveyor-belting fruit lychee extract processing company suppliers
Chandigarh India pvc rough grip conveyor-belts Black color meat processing industries clients
Chhattisgarh India pvc bare bottom conveyor-belts tropical fresh fruits extracts factories clients
Dadra Nagar Haveli India ribbed pvc-conveyor belt mango fruit processor industries suppliers
Delhi NCR India Smell-free pvc conveyor-belts dairy milk powder manufacturers suppliers
Goa India food conveyor pvc-belts Odourless quality marine seafood exporters companies sellers
Gujarat India food conveyor-belt dairy milk butter manufacturers pvc belt suppliers
Haryana India Pebble Top pvc-conveyor belt probiotic foods yogurt manufacturers clients
Himachal Pradesh India food conveyor-belts apple fruit juice producer manufacturers clients
Jharkhand India oil resistant conveyor-belt vegetable oils manufacturers industry clients
Karnataka India pu conveyor-belt White color instant foods manufacturers industry suppliers
Kerala India Inspection Table pvc-conveyor belt spices powder exporters dairy milk producers sellers
Madhya Pradesh India Nitrile Pvc-conveyor belts maize handling conveyors manufacturers suppliers
Maharashtra India White Food conveyor-belting fruit mango pulp conveyors manufacturers sellers
Manipur India pu Food beltings FDA conforming poultry chicken processing industry suppliers
Meghalaya India chevron conveyor-belting black color malt food producer industries sellers
Nagaland India rough grip pvc conveyor-belts meat food processing industries suppliers
Orissa Odisha India Modular Food conveying belts biscuits food manufacturers factory suppliers
Pondicherry India oil resist conveyor-belt poultry eggs processing conveyors manufacturers clients
Punjab India pebble top conveyor-belt chemicals fertilizers industries clients
Rajasthan India cleated conveyor-belts food producer manufacturers sellers
Sikkim India rough top conveyor-belt food process equipment manufacturers suppliers
Tamil Nadu India food grade conveyor-belt rice washer mills conveyors manufacturers sellers
Tripura-India pimple top conveyor-belts pineapple fruit processing industries suppliers
Uttar Pradesh-India nitrile conveyor-belt essential aromatic oils manufacturers exporters clients
Uttarakhand-India food conveyor-belts processed vegetable potato chips manufacturers clients
Asia Conveyor Belts Neighboring Countries HIC India Exports:
Bhutan Asia pvc-conveyor belt dairy agro products manufacturers company suppliers
Nepal Asia white food grade FDA conforming conveyor-belt instant noodles foods industries sellers
Myanmar Burma Asia pvc-coated conveyor-belt Green color vinegar food industries exporters
Sri Lanka Asia PU Pvc food conveyor-belt bakery biscuits manufacturers suppliers
Thailand Asia pvc conveyor-belts food industry equipment manufacturers exports
Singapore Asia Pvc FDA conveyor-belts cocoa food processing conveyors manufacturers sellers
Malaysia Asia nitrile conveyor-belting municipal waste handling company exporters
Philippines Asia green rough top conveyor-belt airports exporters
Indonesia Asia antistatic conveyor-belts packaging wrapping factories suppliers
China Asia pvc logistic conveyor-belt transport companies suppliers
Hong Kong Asia white diamond top food conveyor-belt seafood industries exporters
Bangladesh Asia endless conveyor-belt treadmill equipment manufacturers suppliers
Taiwan Asia chemical resistant pu conveyor-belts chemicals producer exporters
Japan Asia rough top pvc-conveyor belt automobile manufacturing companies exporters