Banded Cogged V Belt Manufacturers
India located manufacturers of banded belts, cogged v belt, narrow v belt, wrapped belt, classical vee belts, metric wedge v belt, automotive belt, ribbed belts, fire resistant anti-static belts FRAS, wrapped fan belt, poly v belt, micro v-belts, raw edge belt, industrial belt v section cross reference sizes, power transmission v belt types exporters to industrial electric motors and textile ring frame machinery manufacturers by HIC Universal having drive motor dealers distributors in China, Asia, USA, UK, Africa, Australia, New Zealand, Canada, Europe, Latin America, Scandinavia, v-belts suppliers as per quality standards conforming IS 2494, BS 3790, DIN 7753, IS 11038, DIN 2215, RMA IP 22, ISO 4184, ISO 5290.

FRAS V belts produced of fire resistant and anti-static grade belt for fire hazardous drives in coal mines and sensitive petrochemical installations complying to quality standards EN 853 2ST, ISO 1436.

Static conductive to ISO 1813 quality of HIC Universal V-belts characteristics makes power transmission equipment manufacturers preferred selection world over, as belts shall not self-ignite under extreme slip or stall state.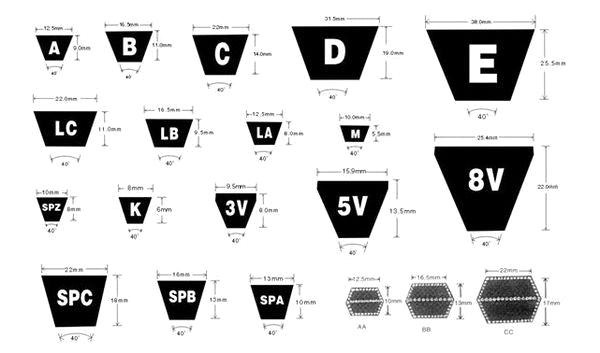 Classical, Wedge, Hex Narrow V-Belts Section Profile
Poly
Banded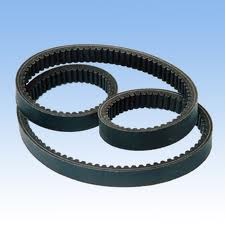 FRAS V-Belt Cogged Type
Rev Up Motor Power

using HIC Universal
Stretch-Free V Belts
Machinery drive motors effective power transmission achieved using polyester cord neoprene jacketed anti-static v belts made in India by HIC Universal.
HIC Universal Banded v belts and cogged v-belts are Original Choice by industrial electric motors and textile ring frame manufacturers in India, Germany, Taiwan, China, Japan, South Korea, United States of America USA, Singapore, Canada, Australia, UK, South Africa, Russia, Uzbekistan, Philippines, Indonesia, Pakistan and other Asian countries.
Power Transmission V Belts are classified as Vee or Fan Belts Reinforced With Man Made Textile Cord HS Code 4010.
Technical Data Sheet of industrial v belts available online.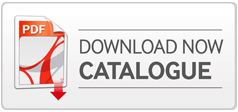 India industrial rubber v-belt Suppliers HIC
Andaman Nicobar India Z A B C sections Classical v-belts fan motors manufacturers suppliers
Andhra Pradesh India AX BX CX cogged v-Belts reciprocating compressors manufacturers suppliers
Arunachal Pradesh India FHP v belt 2000 series agricultural motor manufacturers clients
Assam India B C D E BB Industrial V-belts portable crusher producer suppliers
Bengal India XPZ XPA XPB XPC raw edge cogged belts agitator motor manufacturers clients
Bihar India A 13x8 B 17x11 C 22x14 section sizes V belt diesel engines manufacturers customers
Chandigarh India RA RB RC RD Banded belts generator sets manufacturers suppliers
Chhattisgarh India AX BX CX XPB XPC Raw Edge Cogged belt rock crusher manufacturers-suppliers
Dadra Nagar Haveli-India A B C Wrapped classical belt compressors duty motors makers suppliers
Delhi NCR India Banded Cogged V Belts centrifugal blower motors manufacturers-suppliers
Goa India B C D plain SPA SPB SPC Metric Wedge belts electric motor manufacturers sellers
Gujarat India 3VX 5VX Narrow AX BX CX Cogged belts textile ring frame manufacturers-suppliers
Haryana India Molded Notch cogged belts oil mill machinery manufacturers suppliers
Himachal Pradesh India Wrapped Classical V-Belts hammer crusher manufacturers-suppliers
Jharkhand India FRAS V-Belts Raw Edge Cogged mobile coal crusher producer suppliers
Karnataka India 3PK 4PK 5PK 6PK Poly Vee belts heavy trucks passenger cars producer sellers
Kerala India R3V R5V R8V Banded belt Narrow profile induction motor manufacturers-suppliers
Madhya Pradesh India Multi-Ribbed Serpentine belts automotive engine manufacturers customers
Maharashtra India 7PK 8PK Automotive belts bus motor fan water pump manufacturers-sellers
Manipur India A B C Rubber V-belt section sizes industrial fan motors manufacturers-sellers
Meghalaya India 3V 5V 8V Narrow v-belts HVAC equipment manufacturers suppliers
Nagaland India A B C D E SPC industrial v-belt jaw crushers manufacturers sellers
Orissa Odisha India Raw Edge Wedge Banded v-Belt industrial electric motor manufacturers suppliers
Pondicherry India B C D E vee Belts air conditioning compressor manufacturers sellers
Punjab India Banded Cogged Wedge v belt acid pumps centrifugal blower manufacturers-suppliers
Rajasthan India A B C D SPB v RSPC Multi-Belt Banded belts marble crusher manufacturers-suppliers
Sikkim India RSPB RSPC Banded wedge belt double tobble jaw crusher manufacturers-suppliers
Tamil Nadu India AA BB CC double hex v-Belts rice mill machinery manufacturers-suppliers
Tripura India XPZ XPA Wedge cogged V-belt wooden board machines manufacturers suppliers
Uttar Pradesh India SPA SPB SPC wedge B C D v belt centrifugal pump manufacturers-suppliers
Uttarakhand India AX BX CX cogged B C 5V narrow V-belts turbine motor manufacturers sellers
Asia Banded Cogged V-Belt Neighbouring Countries HIC India Exports:
Bhutan Asia A B C D E FHP Classical V belts compressors manufacturers exporters
Nepal Asia B C D vee R3V R8v Banded Narrow V-Belts portable crushers manufacturers exporters
Myanmar Burma Asia AX BX CX XPZ Cogged V-belt wooden board machine manufacturers exporters
Sri Lanka Asia A B C D 3V 5V FHP V-belt industrial electric motor blowers manufacturers exporters
Thailand Asia 3PK 5PK 7PK Ribbed belt alternator automotive engine manufacturers exporters
Singapore Asia Multiple type Banded belts rotary screw compressors manufacturers exporters
Malaysia Asia Ax Bx Cx XPB 3Vx Raw Edge Cogged belt rock crusher manufacturers exporters
Philippines Asia BB CC double hex B C D v belts rice mill machinery manufacturers exporters
Indonesia Asia Raw Edge Cogged Wedge V-belts textile ring frame manufacturers exporters
China Asia Banded Cogged Metric Wedge FRAS V-Belts electric motor manufacturers exporters
Hong Kong Asia BB CC double Multi-belt Banded belts mixers belt conveyors manufacturers exporters
Bangladesh Asia nylon transmission belts yarn spinning machine manufacturers exporters
Taiwan Asia 3V 5V 8V Narrow Wedge belts mobile aggregate crusher manufacturers exporters
Japan Asia 2L 3L 4L FHP agricultural belt garden lawn equipment producer exporters