Armored Water Suction and Discharge Rubber Hose Manufacturers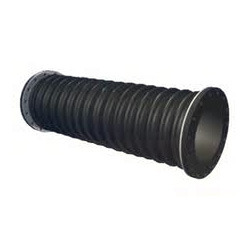 Armored Water Suction & Discharge Corrugated rubber hose pipe with plain soft ends manufactured in synthetic SBR rubber tube reinforced with high tensile synthetic textile fabric plies used as water pump suction hose for sewage discharge and mud water in wastewater treatment plants, dam projects, agriculture, mining, vacuum excavation where high flexibility and lower bend radius is very important for discharge of fluids from tank application supplied exceeding IS 3549 standards produced by HIC Universal India exporters of medium duty rubber water suction hoses to Egypt, Swaziland, Romania, Greece, Spain, Canada, Philippines, South Africa, USA, Zambia, Chile, Australia, UK, Poland.
Armored Water Suction Hose 10 bar as per IS3549 TECHNICAL SPECIFICATIONS: HIC
ID = NB size range (mm)
Working Pressure (bar)
Rubber Tube (lining)
Cover & Finish
Reinforcement
Burst Pressure (bar) & Temperature
51, 63.5, 76, 102, 127, 152, 203

Plain Soft Ends Length: 100mm

Till 8"
10

(= 150 psi)
Test Pressure 1.5 : 1

Vacuum: 750mm Hg
Synthetic SBR rubber, water & abrasion resistant
SBR / EPDM Synthetic rubber, Weather & abrasion resistant ; Corrugated Wrap
BLACK color
High Tensile synthetic textile fabric plies and GS wire helix
30

- 30ºC to + 80ºC

Safety Factor
3 : 1
* Roll Lengths manufactured are 3 meters Min. (= 10 feet Approx.) and Max Length 20 meters produced in each size of Mandrel built woven ply hoses.
** Packaging in coils wrapped in HDPE or Jute cloth straight stuffed from factory into direct truck/ trailer.
*** End Fittings like Crimped / Clamped Flanges as per Class ASA150, BS 10 Table D/E in MS or SS304 material or Camlock Couplings and any other customized end connections duly fitted with hose pipe also supplied.
**** Working Pressure 7 bar rating also produced.