Phosphoric Acid Suction and Discharge Rubber Hose Manufacturers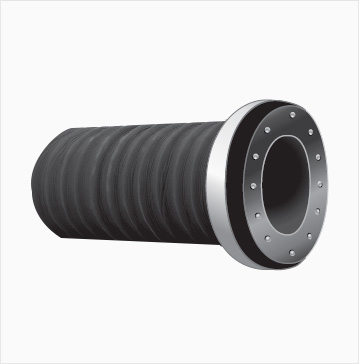 Phosphoric Acid Suction & Discharge hose hand-built rubber pipe in concentrations of up to 50% with temperatures of 150ºC manufactured in synthetic Hypalon rubber tube reinforced with high tenacity nylon textile multiple fabric plies and high tensile steel wire to keep it from collapsing under full suction used as phosphoric acid ship unloading hose for full flow of phosphoric acid without and with rubber lined Flanged ends drilled to bolt to companion flange using standard flat faced flanges used in sea ports, fertilizer industries for discharge of concentrated phosphoric acid supplied as per HIC's standards produced by HIC Universal India exporters of flexible phosphoric acid suction and discharge hoses to Singapore, Argentina, Brazil, France, Netherlands, USA, China, Ivory Coast, UAE, Russia, Belgium, Morocco, Georgia, Canada.
Phosphoric Acid Ship Unloading Hose 10 bar TECHNICAL SPECIFICATIONS: HIC
ID = NB size range (mm)
Working Pressure (bar)
Rubber Tube (lining)
Cover & Finish
Reinforcement
Burst Pressure (bar) & Temperature
51, 76, 102, 127, 152, 203, 254, 305

Till 12"
10
(=150 psi)

Test Pressure 1.5 : 1

Vacuum: 900mm Hg
Synthetic Hypalon rubber blend resistant to strong phosphoric acid, gypsum in concentrations of up to 50% with temperatures of 150ºC max. ; smooth bore
EPDM Synthetic rubber, All-Weather, acid, heat & ozone resistant ; Wrap Fabric Impression Finish
BLACK color
High tenacity nylon textile fabric multiple plies and high tensile steel wire
40

- 40ºC to + 150ºC

Safety Factor
4 : 1
* Roll Lengths manufactured are 3 meters Min. (= 10 feet Approx.) and Max Length 15 meters produced in each size of Hand-built woven ply hoses.
** Packaging in coils wrapped in HDPE or Jute cloth straight stuffed from factory into direct truck/ trailer.
***
End Fittings
like
Crimped / Clamped Flanges as per Class ASA150, BS 10 Table D/E in MS or SS304
material or
Rubber Lined flanges for corrosive phosphoric acid handling
or
Camlock Couplings
and any other customized end connections duly fitted with hose pipe also supplied. ****
Working Pressure 14 bar
rating also produced.