Super Rock Drill Jackhammer Rubber Hose Manufacturers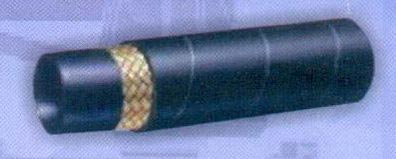 Super Rock Drill Jackhammer rubber hose pipe manufactured in blended synthetic Nitrile and RMA rubber tube reinforced with high tensile synthetic textile fabric plies used as compressed air hose for heavy duty pneumatic tools & multipurpose air delivery in rock drilling equipment, air compressor jackhammers, construction sites for mining compressor with jackhammer application supplied exceeding IS 446 T3 standards produced by HIC Universal India exporters of compressed air jackhammer hoses to South Africa, China, Italy, Australia, USA, UK, Bolivia, Nepal, Ecuador, Monaco, Nigeria, Mongolia, Poland, New Zealand, Congo, Zimbabwe, Philippines, Slovenia, Bhutan, Malawi, Uganda.
Rock Drill Jackhammer Air Hose 20 bar as per IS446 Type3 TECHNICAL SPECIFICATIONS: HIC
ID = NB size range (mm)
Working Pressure (bar)
Rubber Tube (lining)
Cover & Finish
Reinforcement
Burst Pressure (bar) & Temperature
19 x 32OD,
25x 39OD,
32 x 48OD,
38 x 54OD,
51 x 69OD,
63.5 x 83OD,
76 x 96OD,
102 x 125OD

Till 4"
20

(= 300 psi)
Test Pressure 1.5 : 1


Blended synthetic Nitrile and RMA rubber tube, Moderate oil & abrasion resistant
SBR Synthetic rubber, Weather, ozone & abrasion resistant ; Plain Wrap
BLACK color
High Tensile synthetic textile fabric plies Or Braided synthetic yarn
60

- 30ºC to + 70ºC

Safety Factor
3 : 1
* Roll Lengths manufactured are 20 meters Max (= 65 feet Approx.) of Mandrel built woven ply hoses and Max Length 60 meters produced in each size of Braided hoses.
** Packaging in coils wrapped in HDPE or Jute cloth straight stuffed from factory into direct truck/ trailer.
*** End Fittings like Quick Release Air Couplings in CS or SS304 material and any other customized end connections duly fitted with hose pipe also supplied.