Propane Gas Welding Rubber Hose Pipe Manufacturers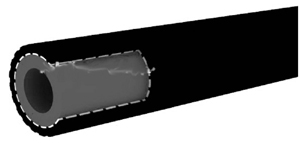 Propane Gas Welding rubber hose pipe Black Color cover manufactured in blended synthetic SBR and RMA rubber tube reinforced with braided synthetic yarn or rubberised textile woven fabric plies used as industrial propane hose for heating large surfaces with propane gas or other non-combustible gases in aluminum melting furnaces, kilns, forgings, steel mills, repair workshops for propane-fuel gas burner for kiln welding application supplied exceeding IS 447, DIN 8541 standards produced by HIC Universal India exporters of rubber welding hoses to Australia, UK, China, USA, Japan, Germany, South Korea, South Africa, Indonesia, Belgium, Nigeria, Italy, Greece, Turkey, UAE, Brazil, Slovakia, Hungary, Israel.
Propane Gas Hose 18bar as per IS447 TECHNICAL SPECIFICATIONS: HIC
ID = NB size range (mm)
Working Pressure (bar)
Rubber Tube (lining)
Cover & Finish
Reinforcement
Burst Pressure (bar) & Temperature
8 x 16.3OD
10 x 18.5OD


Till 3/8"
18
(=255 psi)
Wall Thickness: 4mm

Test Pressure 2 : 1


Synthetic SBR and RMA rubber blended tube, non-combustible gases resistant & fuel gas i.e., Propane resistant in particular
UV, ozone & abrasion resistant Natural and Synthetic rubber blended; Smooth or Fluted Top
BLACK color
Braided synthetic yarn Or rubberised textile woven fabric plies
70

- 10ºC to + 50ºC

Safety Factor
4 : 1
* Roll Lengths manufactured are 120 meters Max (= 394 feet Approx.) of Braided hoses and Max Length 20 meters produced in each size of Mandrel built woven ply hoses.
** Packaging in coils wrapped in HDPE or Jute cloth straight stuffed from factory into direct truck/ trailer.