Water Blast High Pressure Rubber Hose Manufacturers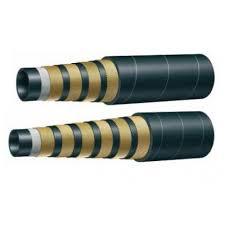 Water Blast High Pressure rubber hose pipe manufactured in seamless synthetic rubber tube reinforced with 4 spirals of high tensile steel wire used as water blaster hose for scale removal in shipyards, road works, buildings, industries for dust elimination at extreme high pressure water jetting application supplied as per HIC's own standards produced by HIC Universal India exporters of high pressure waterblast hoses to New Zealand, USA, Singapore, Hong Kong, Philippines, China, Sri Lanka, Netherlands, UAE, Bangladesh, Thailand, Vietnam, Spain, Egypt, Ukraine, South Korea, Japan, Indonesia, Italy, Taiwan, Germany, Australia, Colombia, Tanzania, Uruguay.
High Pressure Water Blast Hose 1000 bar TECHNICAL SPECIFICATIONS: HIC
ID = NB size range (mm)
Working Pressure (bar)
Rubber Tube (lining)
Cover & Finish
Reinforcement
Burst Pressure (bar) & Temperature
12.5 x 27 OD (Bend Radius Min 8"),

19 x 36 OD (Bend Radius Min 12.5"),

Till 3/4"
1000

(= 14500 psi)
Test Pressure 1.25 : 1
Synthetic rubber of uniform thickness, water & abrasion resistant
Synthetic Nitrile rubber, oils & atmospheric condition resistant ; Cloth Wrapped
BLACK color
4 spirals of high tensile steel wire
2,500

- 35ºC to + 100ºC

Safety Factor
2.5 : 1
* Roll Lengths manufactured are 10 meters Min. (= 32 feet Approx.) and Max Length 100 meters produced in each size of wire braided hydraulic high pressure hoses.
** Packaging in coils wrapped in HDPE or Jute cloth straight stuffed from factory into direct truck/ trailer.
*** End Fittings Crimped type hose assembly also made.
**** Hose Reel also provided.