Water Delivery Rubber Hose Pipe Manufacturers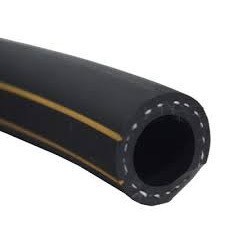 Water Delivery rubber hose pipe manufactured in blended Natural and SBR synthetic rubber tube braided single or double nylon yarn in long length or heavy duty usage multiple textile woven ply mandrel built till 20m max single length used as industrial water hose for transfer of industrial water, construction site water discharge, railway water feed, gardening, fishing vessel decks for general purpose rubber water hose application supplied exceeding IS 444 Type2 specifications produced by HIC Universal India exporters of rubber water hoses to Nepal, Sri Lanka, Myanmar, Bangladesh, Thailand, USA, Iraq, England UK, Russia, Iran, China, Indonesia, Singapore, Nigeria, Azerbaijan, Yemen, Malaysia, Senegal, UAE, Zambia, Argentina, Greece, Togo.
Water Delivery Hose 10 bar as per IS444 TECHNICAL SPECIFICATIONS: HIC
ID = NB size range (mm)
Working Pressure (bar)
Rubber Tube (lining)
Cover & Finish
Reinforcement
Burst Pressure (bar) & Temperature
12.5, 19, 25, 32, 38, 50

Till 2"
10

(= 150 psi)

Test Pressure 1.5 : 1
Natural & Synthetic (SBR) blended rubber, water resistant

Lining Av. T.S.: 4.0 MPa

Av. Elongation: 200%
Natural & Synthetic blended, abrasion resistant rubber & cut protected; Wrapped and Smooth
BLACK / RED color
Synthetic 1 or 2 nylon yarn braided or woven textile plies ( for mandrel built)
30

- 30ºC to + 70ºC

Safety Factor
3 : 1
* Roll Lengths manufactured are 30 meters Min. (= 98 feet Approx.) and Max continuous long length of braided hoses produced are 120m for 1/2" ID ; 80m for 3/4" ; 60m for 1" and 1-1/4" ; 50m for 1-1/2" ; 20m for 2 inch Inner Diameter size hose. Mandrel built woven ply hoses Max Length produced in each size is 20 meters.
** Packaging in coils wrapped in HDPE or Jute cloth straight stuffed from factory into direct truck/ trailer.
*** Hose Reel also supplied.