Nonconductive Furnace Coolant Rubber Hose Manufacturers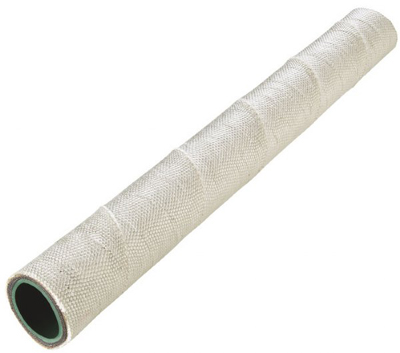 Nonconductive Furnace Coolant rubber hose pipe with fire proof fiberglass cover having molten metals temperature resistant up to + 1000ºC manufactured in synthetic SBR rubber tube reinforced with rubberised textile fabric plies or high tenacity synthetic yarn used as furnace door coolant heat resistant hose for electrical cable coolant with low leakage current (less than 20 Micro Amp. at 6 KV D.C. and minimum resistance of one Megaohm per inch at 1000 volts DC.) in ferroalloys plants, steel mills, glass works, foundries for industrial cooling system application supplied as per HIC's own standards produced by HIC Universal India exporters of nonconductive furnace hoses to Congo, Zambia, Mozambique, South Africa, Kazakhstan, Luxembourg, South Korea, China, Japan, Brazil, Russia, Indonesia, USA, Italy, Taiwan, Iran, Germany, Australia, Venezuela, Belgium, Malaysia.
Nonconductive Furnace Coolant Hose 10/ 15 bar TECHNICAL SPECIFICATIONS: HIC
ID = NB size range (mm)
Working Pressure (bar)
Rubber Tube (lining)
Cover & Finish
Reinforcement
Burst Pressure (bar) & Temperature
10, 12.5, 19, 25, 32, 38, 45, 50, 63, 70, 75, 80, 90, 100, 125, 150

Till 6"
10

(= 150 psi)
Test Pressure 2 : 1
Synthetic SBR rubber Grey or Black color, heat & abrasion resistant
Synthetic Nitrile rubber, Weather & abrasion resistant ;
Outer Cover: Fire-proof Fiberglass Cloth vulcanized, Resistant to splashes of hot metal & heat radiation up to + 1000ºC
GREY color
Multiple textile plies
40

- 30ºC to + 100ºC

Safety Factor
4 : 1
* Roll Lengths manufactured are 10 meters Min. (= 32 feet Approx.) and Max Length 20 meters produced in each size of Mandrel built woven ply hoses.
** Packaging in coils wrapped in HDPE or Jute cloth straight stuffed from factory into direct truck/ trailer.
*** Asbestos Cover externally that can withstand hot metal splashes temperature up to +460° C, in place of Fire Proof Cloth cover also made.
**** Working Pressure 15 bar rating also produced.